NIG
NGS-Serviceeinrichtung für Integrative Genomik
Die NGS-Serviceeinrichtung für Integrative Genomik (NIG) ist eine wissenschaftliche Serviceeinrichtung der Universitätsmedizin Göttingen (UMG) und am Institut für Humangenetik verankert. Wir unterstützen die biomedizinische Forschung auf dem Gebiet der Genomik, Transkriptomik und Epigenomik mit der Durchführung von genomischen Analysen mittels Next-Generation Sequencing (NGS) und der Anwendung von Microarray-Techniken. Dazu stellen wir unsere langjährige Expertise, eine hochmoderne Infrastruktur und durchdachte Verfahren zur Verfügung. Zudem arbeiten wir an der Entwicklung neuer Technologien, die wir dann unmittelbar als Dienstleistung etablieren.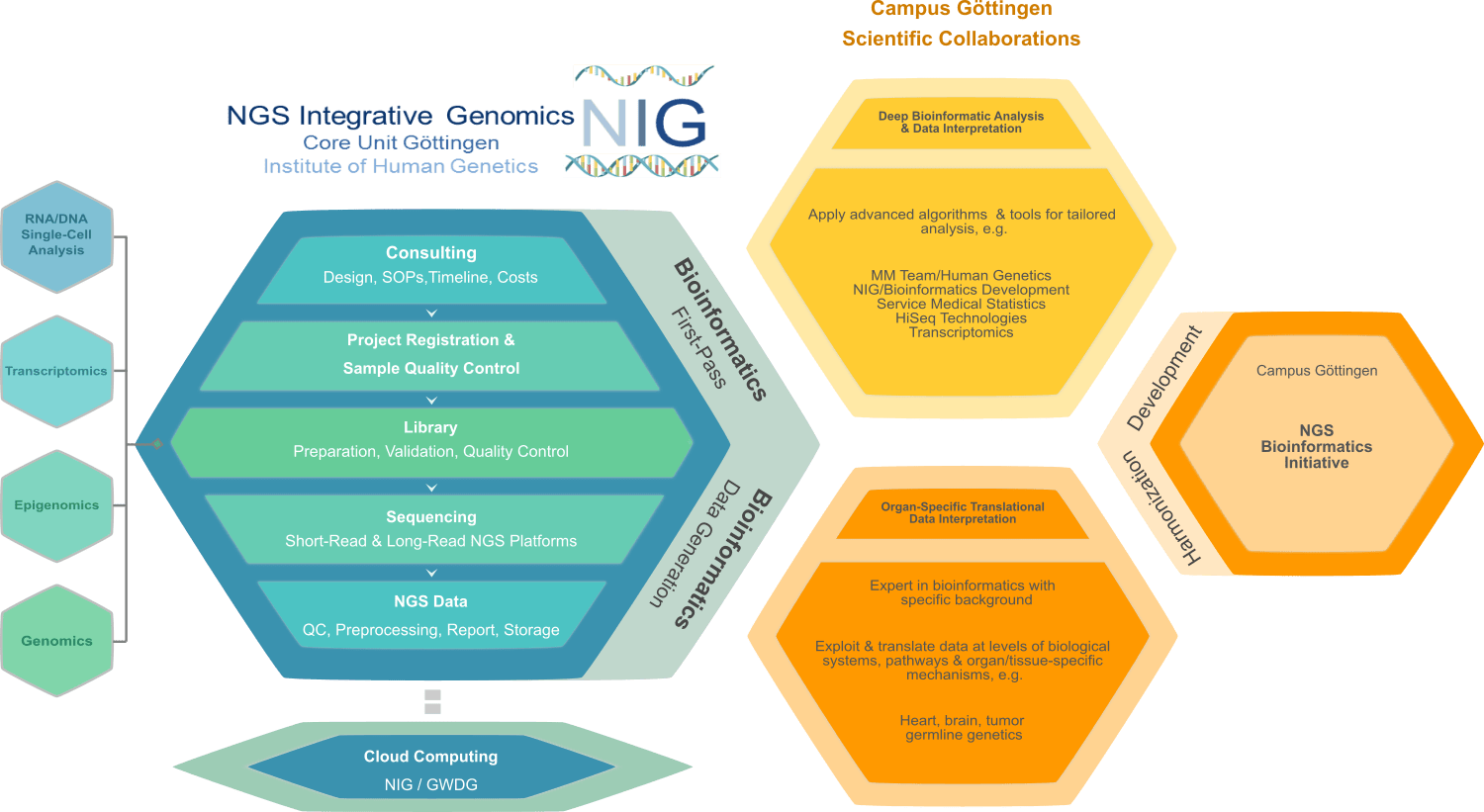 Unseren Nutzer*innen bieten wir einen umfassenden Laborservice aus RNA/DNA-Präparationen, Qualitätsanalysen, Probenvorbereitung für Deep Sequencing und Microarray-Analysen und unterstützen sie bei Bedarf zusätzlich mit einem umfangreichen statistischen und bioinformatischen Support von der Konzeption des Projektdesigns bis hin zur Analyse der experimentellen Daten.
Unsere wissenschaftlichen Beratungs- und Serviceleistungen stehen Forschungsgruppen der UMG sowie universitären und außeruniversitären Kooperationspartnern auf Basis einer Kostenbeteiligung offen.
Die Fachaufsicht über die Serviceeinrichtung liegt beim Direktor des Instituts für Humangenetik, Herrn Prof. Bernd Wollnik. Die Leitung der Serviceeinrichtung obliegt Frau Dr. Gabriela Salinas.
Gerne stehen wir Ihnen mit unserer Expertise für ein erstes Beratungsgespräch zur Verfügung und/oder erstellen ein Angebot für Sie.
Unser Komplettservice umfasst die initiale Besprechung des Projektdesigns, die Probenvorbereitung, die Durchführung der molekularen Analysen sowie die Bereitstellung der generierten Daten für die weitere Auswertung (First-Pass-Datengenerierung).

Planung des Projektdesigns
Ein erfolgreiches, NGS-basiertes Experiment bedarf vorab der sorgfältigen Gestaltung eines ausführlichen Projektplans. Unser Ziel ist es, durch ein optimales Setup qualitativ hochwertiges Material und statistische Relevanz zu erhalten. Dazu klären wir gemeinsam mit unseren Nutzer*innen beispielsweise folgende Fragen:
Wie lautet die Fragestellung/Hypothese des Experiments?
Wie lässt sich diese Fragestellung am besten in ein statistisch relevantes und kosteneffizientes Setup übertragen?
Was ist das genaue Ziel des Experimentes?
Welche Art und Anzahl von Proben sind erforderlich, um ein robustes Ergebnis zu erhalten?
Wie werden diese Proben gewonnen?
Welches Verfahren der RNA/DNA-Gewinnung eignet sich?
Wie lässt sich die Integrität der RNA/DNA bewahren?
Welche Plattform/Technik sollte eingesetzt werden?
Next-Generation Sequencing
Next-Generation Sequencing (NGS) ist ein Hochdurchsatzverfahren, das eine schnelle Sequenzierung der Basenpaare in DNA- oder RNA-Proben ermöglicht. Die Fragestellungen, für die sich die NGS-Technologie nutzen lässt, sind vielfältig. Sie erfordern auf DNA sowie auf RNA basierende Assays und sollen größere genomische Veränderungen (z.B. Copy-Number-Veränderungen) ebenso nachweisen wie Veränderungen einzelner Nukleotide. Auch Genexpressions-Analysen, der Nachweis von epigenetischen Veränderungen und molekulare Analysen bis hin zu DNA-Methylierungs-Assays sind möglich und gefordert. NGS treibt Entdeckungen voran und ermöglicht die Zukunft der personalisierten Medizin.
Zu unserem Leistungsangebot gehört ein breites Spektrum an Microarray-basierten Applikationen. Mittels zweier Platformen (Agilent und Affymetrix) unterstützen wir unsere NutzerInnen insbesondere bei der Durchführung von Microarray-Experimenten zur Genomexpressionsanalyse, Exonarrays, miRNA-Analysen, Genotypisierungsassays, Array-CGH sowie SNP-Arrays.
Datenanalyse/Bioinformatik
Wir helfen bei der Planung des experimentellen Konzepts, der Datenanalyse, der Aufbereitung der Daten in publikationsfähigen Abbildungen und der Interpretation von Analyseergebnissen und wir empfehlen bei Bedarf weiterführende Analysen. Wir unterstützen eine Vielzahl von NGS-basierten Anwendungen sowohl mit publizierten als auch In-house-Softwarepaketen. Die Datengenerierung beinhaltet die Qualitätsprüfung und optional das Filtern und Trimmen der Daten. Zur Datenanalyse gehört eine umfassende Qualitätskontrolle, Mapping, Read-Summarizing/SNP-Calling, Datenvisualisierung, Statistik, funktionelle Annotation und Interpretation der Daten.
Wird bei Laborprotokollen oder der statistischen Analyse und Visualisierung von den Standardprozeduren abgewichen, können wir auf Kooperationsbasis tätig werden.


Wir verfügen über modernste und leistungsfähige Geräte für eine kosten- und zeiteffiziente Durchführung verschiedenster Analysen.
HiSeq4000
HiSeq2500
NextSeq
MiSeq
MinION
C1 System Fluidigm
10 x Genomics
CellenONE X1
ICELL8 (Takara)
NGS-Automation und Qualitätskontrolle der Proben
Beckman Coulter's Biomek-automated next-generation sequencing sample prep
Fragment Analyzer
Pippin prep
Wir erstellen Ihnen gerne ein persönliches Angebot. Bitte senden Sie uns für einen Analyseauftrag das ausgefüllte Dokument per E-Mail an gsalina@gwdg.de.
Für die Durchführung der angeforderten Analysen gelten die in Nutzerordnung und Betriebskonzept fixierten Rahmenbedingungen.

Idealerweise kontaktieren Sie uns zu einem möglichst frühen Zeitpunkt in Ihrem Projekt. So können wir gemeinsam eine optimale Strategie erarbeiten, die den Bedürfnissen von genomweiten Analysen gerecht wird.
Dr. Gabriela Salinas
Leiterin NIG
Bitte senden Sie Ihre Proben an:
Dr. Gabriela Salinas
NGS-Integrative Genomics (NIG)
University Medical Center Göttingen (UMG)
Justus-von-Liebig Weg 11
37077 Göttingen

Heat stress leads to rapid lipid remodeling and transcriptional adaptations in Nicotiana tabacum pollen tubes
Krawczyk HE, Rotsch AH, Herrfurth C, Scholz P, Shomroni O, Salinas-Riester G, Feussner I, Ischebeck T
Plant Physiol 2022 Jun 1;189(2):490-515. doi: 10.1093/plphys/kiac127.
Neutrophilic granulocyte-derived B-cell activating factor supports B cells in skin lesions in hidradenitis suppurativa
Sabat R, Šimaitė D, Gudjonsson JE, Brembach TC, Witte K, Krause T, Kokolakis G, Bartnik E, Nikolaou C, Rill N, Coulibaly B, Levin C, Herrmann M, Salinas G, Leeuw T, Volk HD, Ghoreschi K, Wolk K
J Allergy Clin Immunol 2022 Dec 5:S0091-6749(22)01621-9. doi: 10.1016/j.jaci.2022.10.034. Online ahead of print.
Engineered skeletal muscle recapitulates human muscle development, regeneration and dystrophy
Shahriyari M, Islam MR, Sakib SM, Rinn M, Rika A, Krüger D, Kaurani L, Gisa V, Winterhoff M, Anandakumar H, Shomroni O, Schmidt M, Salinas G, Unger A, Linke WA, Zschüntzsch J, Schmidt J, Bassel-Duby R, Olson EN, Fischer A, Zimmermann WH, Tiburcy M
J Cachexia Sarcopenia Muscle 2022 Dec;13(6):3106-3121. doi: 10.1002/jcsm.13094. Epub 2022 Oct 18.
Short-Term Test for Toxicogenomic Analysis of Ecotoxic Modes of Action in Lemna minor
Loll A, Reinwald H, Ayobahan SU, Göckener B, Salinas G, Schäfers C, Schlich K, Hamscher G, Eilebrecht S
Environ Sci Technol 2022 Aug 16;56(16):11504-11515. doi: 10.1021/acs.est.2c01777. Epub 2022 Aug 4.
Prdm12 modulates pain-related behavior by remodeling gene expression in mature nociceptors
Latragna A, Sabaté San José A, Tsimpos P, Vermeiren S, Gualdani R, Chakrabarti S, Callejo G, Desiderio S, Shomroni O, Sitte M, Kricha S, Luypaert M, Vanhollebeke B, Laumet G, Salinas G, Smith ESJ, Ris L, Bellefroid EJ
Pain 2022 Aug 1;163(8):e927-e941. doi: 10.1097/j.pain.0000000000002536. Epub 2021 Dec 24.
HNF1B Alters an Evolutionarily Conserved Nephrogenic Program of Target Genes
Grand K, Stoltz M, Rizzo L, Röck R, Kaminski M, Salinas G, Getwan M, Naert T, Pichler R, Lienkamp S
J Am Soc Nephrol. 2022 Dec 15:ASN.2022010076. doi: 10.1681/ASN.2022010076. Epub ahead of print.
Detailed phenotypic and functional characterization of CMV-associated adaptive NK cells in rhesus macaques
Hasan MZ, Höltermann C, Petersen B, Schrod A, Mätz-Rensing K, Kaul A, Salinas G, Dressel R, Walter L
Front Immunol. 2022 Nov 25;13:1028788. doi: 10.3389/fimmu.2022.1028788.
Small and long RNA transcriptome of whole human cerebrospinal fluid and serum as compared to their extracellular vesicle fractions reveal profound differences in expression patterns and impacts on biological processes
Michel U, Shomroni O, Müller B, Lange P, Salinas G, Bähr M, Koch JC
J Transl Med 2022 Sep 8;20(1):413. doi: 10.1186/s12967-022-03612-3.
Gene-expression profiles of pretreatment biopsies predict complete response of rectal cancer patients to preoperative chemoradiotherapy
Emons G, Auslander N, Jo P, Kitz J, Azizian A, Hu Y, Hess CF, Roedel C, Sax U, Salinas G, Stroebel P, Kramer F, Beissbarth T, Grade M, Ghadimi M, Ruppin E, Ried T, Gaedcke J
Br J Cancer 2022 May 21. doi: 10.1038/s41416-022-01842-2. Online ahead of print.
Comparative multi-tissue profiling reveals extensive tissue-specificity in transcriptome reprogramming during thermal adaptation
Hadadi N, Spiljar M, Steinbach K, Çolakoğlu M, Chevalier C, Salinas G, Merkler D, Trajkovski M.
Elife. 2022 May 17;11:e78556. doi: 10.7554/eLife.78556.
Calcium bursts allow rapid reorganization of EFhD2/Swip-1 cross-linked actin networks in epithelial wound closure
Lehne F, Pokrant T, Parbin S, Salinas G, Großhans J, Rust K, Faix J, Bogdan S.
Nat Commun 2022 May 6;13(1):2492. doi: 10.1038/s41467-022-30167-0.
IGF-1 Gene Transfer Modifies Inflammatory Environment and Gene Expression in the Caudate-Putamen of Aged Female Rat Brain
Falomir-Lockhart E, Dolcetti FJC, Herrera ML, Pennini J, Zappa Villar MF, Salinas G, Portiansky E, Spittau B, Lacunza E, Hereñú CB, Bellini MJ.
Mol Neurobiol. 2022 Jun;59(6):3337-3352. doi: 10.1007/s12035-022-02791-w. Epub 2022 Mar 19.
Toxicogenomic profiling after sublethal exposure to nerve- and muscle-targeting insecticides reveals cardiac and neuronal developmental effects in zebrafish embryos
Reinwald H, Alvincz J, Salinas G, Schäfers C, Hollert H, Eilebrecht S.
Chemosphere 2022 Mar;291(Pt 1):132746. doi: 10.1016/j.chemosphere.2021.132746.
Regenerative potential of epicardium-derived extracellular vesicles mediated by conserved miRNA transfer
Del Campo CV, Liaw NY, Gunadasa-Rohling M, Matthaei M, Braga L, Kennedy T, Salinas G, Voigt N, Giacca M, Zimmermann WH, Riley PR.
Cardiovasc Res. 2022 Jan 29;118(2):597-611. doi: 10.1093/cvr/cvab054.
A novel single-cell RNA-sequencing approach and its applicability connecting genotype to phenotype in ageing disease
Shomroni O, Sitte M, Schmidt J, Parbin S, Ludewig F, Yigit G, Zelarayan LC, Streckfuss-Bömeke K, Wollnik B, Salinas G
Sci Rep. 2022 Mar 8;12(1):4091. doi: 10.1038/s41598-022-07874-1.
Transcriptomic profiling of clobetasol propionate-induced immunosuppression in challenged zebrafish embryos
Essfeld F, Reinwald H, Salinas G, Schäfers C, Eilebrecht E, Eilebrecht S
Ecotoxicol Environ Saf 2022 Mar 15;233:113346. doi: 10.1016/j.ecoenv.2022.113346. Epub 2022 Feb 25.
The HIFα-Stabilizing Drug Roxadustat Increases the Number of Renal Epo-Producing Sca-1+ Cells
Jatho A, Zieseniss A, Brechtel-Curth K, Guo J, Böker KO, Salinas G, Wenger RH, Katschinski DM
Cells. 2022 Feb 21;11(4):753. doi: 10.3390/cells11040753.
Transcriptome Analysis of Hypoxic Lymphatic Endothelial Cells Indicates Their Potential to Contribute to Extracellular Matrix Rearrangement
Becker J, Schwoch S, Zelent C, Sitte M, Salinas G, Wilting J
Cells. 2021 Apr 24;10(5).
Protein Signatures of NK Cell-Mediated Melanoma Killing Predict Response to Immunotherapies
Cappello S, Sung HM, Ickes C, Gibhardt CS, Vultur A, Bhat H, Hu Z, Brafford P, Denger A, Stejerean-Todoran I, Köhn RM, Lorenz V, Künzel N, Salinas G, Stanisz H, Legler T, Rehling P, Schön MP, Lang KS, Helms V, Herlyn M, Hoth M, Kummerow C, Bogeski I
Cancer Res 2021 Nov 1;81(21):5540-5554. doi: 10.1158/0008-5472.CAN-21-0164. Epub 2021 Sep 13.
Investigations on the Degradation of the Bile Salt Cholate via the 9,10-Seco-Pathway Reveals the Formation of a Novel Recalcitrant Steroid Compound by a Side Reaction in Sphingobium sp. Strain Chol11
Feller FM, Eilebrecht S, Nedielkov R, Yücel O, Alvincz J, Salinas G, Ludwig KC, Möller H, Philipp B
Microorganisms 2021 Oct 14;9(10):2146. doi: 10.3390/microorganisms9102146.
Screening for potential targets to reduce stenosis in bioprosthetic heart valves
Foth R, Shomroni O, Sigler M, Hörer J, Cleuziou J, Paul T, Eildermann K
Sci Rep. 2021 Jan 28;11(1):2464. doi: 10.1038/s41598-021-81340-2.
Restructuring of the male mice peripheral circadian network after bariatric surgery
Neumann AM, Geißler C, Pilorz V, Olejniczak I, Lewis AG, Seeley RJ, Shomroni O, Salinas-Riester G, Kirchner H, Oster H
J Endocrinol. 2021 Jun 28;250(2):67-79. doi: 10.1530/JOE-20-0611.
Toxicogenomic differentiation of functional responses to fipronil and imidacloprid in Daphnia magna
Pfaff J, Reinwald H, Ayobahan SU, Alvincz J, Göckener B, Shomroni O, Salinas G, Düring RA, Schäfers C, Eilebrecht S
Aquat Toxicol 2021 Jul 27;238:105927. doi: 10.1016/j.aquatox.2021.105927. Online ahead of print.
The Redox Homeostasis of Skeletal Muscle Cells Regulates Stage Differentiation of Toxoplasma gondii
Rahman MT, Swierzy IJ, Downie B, Salinas G, Blume M, McConville MJ, Lüder CGK
Front Cell Infect Microbiol 2021 Nov 22;11:798549. doi: 10.3389/fcimb.2021.798549. eCollection 2021.
Toxicogenomic fin(ger)prints for thyroid disruption AOP refinement and biomarker identification in zebrafish embryos
Reinwald H, König A, Ayobahan SU, Alvincz J, Sipos L, Göckener B, Böhle G, Shomroni O, Hollert H, Salinas G, Schäfers C, Eilebrecht E, Eilebrecht S
Sci Total Environ 2021 Mar 15;760:143914. doi: 10.1016/j.scitotenv.2020.143914. Epub 2020 Dec 10.
Biallelic variants in YRDC cause a developmental disorder with progeroid features
Schmidt J, Goergens J, Pochechueva T, Kotter A, Schwenzer N, Sitte M, Werner G, Altmüller J, Thiele H, Nürnberg P, Isensee J, Li Y, Müller C, Leube B, Reinhardt HC, Hucho T, Salinas G, Helm M, Jachimowicz RD, Wieczorek D, Kohl T, Lehnart SE, Yigit G, Wollnik B
Hum Genet 2021 Sep 20. doi: 10.1007/s00439-021-02347-3. Epub ahead of print.
Differences in synaptic vesicle pool behavior between male and female hippocampal cultured neurons
Sertel SM, Blumenstein W, Mandad S, Shomroni O, Salinas G, Rizzoli SO
Sci Rep 2021 Aug 30;11(1):17374. doi: 10.1038/s41598-021-96846-y.
The folate antagonist methotrexate diminishes replication of the coronavirus SARS-CoV-2 and enhances the antiviral efficacy of remdesivir in cell culture models
Stegmann KM, Dickmanns A, Gerber S, Nikolova V, Klemke L, Manzini V, Schlösser D, Bierwirth C, Freund J, Sitte M, Lugert R, Salinas G, Meister TL, Pfaender S, Görlich D, Wollnik B, Groß U, Dobbelstein M
Virus Res 2021 Jun 3:198469. doi: 10.1016/j.virusres.2021.198469. Epub ahead of print.
CHARGE syndrome and related disorders: A mechanistic link
Ufartes R, Grün R, Salinas G, Sitte M, Kahl F, Wong MTY, van Ravenswaaij-Arts CMA, Pauli S
Hum Mol Genet 2021 Jul 6:ddab183. doi: 10.1093/hmg/ddab183. Epub ahead of print.
Post-transcriptional regulation by the exosome complex is required for cell survival and forebrain development via repression of P53 signaling
Ulmke PA, Xie Y, Sokpor G, Pham L, Shomroni O, Berulava T, Rosenbusch J, Basu U, Fischer A, Nguyen HP, Staiger JF, Tuoc T
Development. 2021 Feb 8;148(3):dev188276. doi: 10.1242/dev.188276.
Regenerative potential of epicardium-derived extracellular vesicles mediated by conserved miRNA transfer
Villa Del Campo C, Liaw NY, Gunadasa-Rohling M, Matthaei M, Braga L, Kennedy T, Salinas G, Voigt N, Giacca M, Zimmermann WH, Riley PR
Cardiovasc Res. 2021 Feb 18:cvab054. doi: 10.1093/cvr/cvab054. Epub ahead of print.
Transmitted resistance in HIV-1 of patients from nine departments of Peru
Yabar CA, Vilcarino GF, Espetia S, Yaya MG, Salinas G, García-Fernández L, Vásquez Becerra RD, Benites C, Santos-Anaya D, Mamani E, Acuña M, Romero S, Cárdenas F
Rev Peru Med Exp Salud Publica 2021 Jan-Mar;38(1):77-82. doi: 10.17843/rpmesp.2021.381.5527. Epub 2021 Jun 25.
EVL regulates VEGF receptor-2 internalization and signaling in developmental angiogenesis
Zink J, Frye M, Frömel T, Carlantoni C, John D, Schreier D, Weigert A, Laban H, Salinas G, Stingl H, Günther L, Popp R, Hu J, Vanhollebeke B, Schmidt H, Acker-Palmer A, Renné T, Fleming I, Benz PM
EMBO Rep 2021 Feb 3;22(2):e48961. doi: 10.15252/embr.201948961. Epub 2021 Jan 29.
SUMOylation controls the neurodevelopmental function of the transcription factor Zbtb20
Ripamonti S, Shomroni O, Rhee JS, Chowdhury K, Jahn O, Hellmann KP, Bonn S, Brose N, Tirard M
J Neurochem 2020 Sep;154(6):647-661. doi: 10.1111/jnc.15008. Epub 2020 Apr 16.
Maturational Changes in Mouse Cutaneous Touch and Piezo2-Mediated Mechanotransduction
Michel N, Narayanan P, Shomroni O, Schmidt M
Cell Rep 2020 Jul 21;32(3):107912. doi: 10.1016/j.celrep.2020.107912.
Long-term effects of empagliflozin on excitation-contraction-coupling in human induced pluripotent stem cell cardiomyocytes
Pabel S, Reetz F, Dybkova N, Shomroni O, Salinas G, Mustroph J, Hammer KP, Hasenfuss G, Hamdani N, Maier LS, Streckfuss-Bömeke K, Sossalla S
J Mol Med 2020 Oct 9. [Epub ahead of print]
Motor neuron translatome reveals deregulation of SYNGR4 and PLEKHB1 in mutant TDP-43 amyotrophic lateral sclerosis models
Marques RF, Engler JB, Küchler K, Jones RA, Lingner T, Salinas G, Gillingwater TH, Friese MA, Duncan KE
Hum Mol Genet 2020 Jul 7:ddaa140. doi: 10.1093/hmg/ddaa140. Online ahead of print.
Characterization of circulating breast cancer cells with tumorigenic and metastatic capacity
Koch C, Kuske A, Joosse SA, Yigit G, Sflomos G, Thaler S, Smit DJ, Werner S, Borgmann K, Gärtner S, Mossahebi Mohammadi P, Battista L, Cayrefourcq L, Altmüller J, Salinas-Riester G, Raithatha K, Zibat A, Goy Y, Ott L, Bartkowiak K, Tan TZ, Zhou Q, Speicher MR, Müller V, Gorges TM, Jücker M, Thiery JP, Brisken C, Riethdorf S, Alix-Panabières C, Pantel K.
EMBO Mol Med 2020 Jul 15:e11908. doi: 10.15252/emmm.201911908. Online ahead of print.
Intronic CRISPR Repair in a Preclinical Model of Noonan Syndrome-Associated Cardiomyopathy
Hanses U, Kleinsorge M, Roos L, Yigit G, Li Y, Barbarics B, El-Battrawy I, Lan H, Tiburcy M, Hindmarsh R, Lenz C, Salinas G, Diecke S, Müller C, Adham I, Altmüller J, Nürnberg P, Paul T, Zimmermann WH, Hasenfuss G, Wollnik B, Cyganek L.
Circulation. 2020 Jul 6. doi: 10.1161/CIRCULATIONAHA.119.044794. Online ahead of print.
DNA Methylation-Mediated Modulation of Endocytosis as Potential Mechanism for Synaptic Function Regulation in Murine Inhibitory Cortical Interneurons
Pensold D, Reichard J, Van Loo KMJ, Ciganok N, Hahn A, Bayer C, Liebmann L, Groß J, Tittelmeier J, Lingner T, Salinas-Riester G, Symmank J, Halfmann C, González-Bermúdez L, Urbach A, Gehrmann J, Costa I, Pieler T, Hübner CA, Vatter H, Kampa B, Becker AJ, Zimmer-Bensch G.
Cereb Cortex 2020 Jun 1;30(7):3921-3937. doi: 10.1093/cercor/bhaa009.
IgG Fc sialylation is regulated during the germinal center reaction upon immunization with different adjuvants
Bartsch YC, Eschweiler S, Leliavski A, Lunding HB, Wagt S, Petry J, Lilienthal GM, Rahmöller J, de Haan N, Hölscher A, Erapaneedi R, Giannou AD, Aly L, Sato R, de Neef LA, Winkler A, Braumann D, Hobusch J, Kuhnigk K, Krémer V, Steinhaus M, Blanchard V, Gemoll T, Habermann JK, Collin M, Salinas G, Manz RA, Fukuyama H, Korn T, Waisman A, Yogev N, Huber S, Rabe B, Rose-John S, Busch H, Berberich-Siebelt F, Hölscher C, Wuhrer M, Ehlers M.
J Allergy Clin Immunol 2020 May 20:S0091-6749(20)30728-4. doi: 10.1016/j.jaci.2020.04.059.
De novo mutations in FBRSL1 cause a novel recognizable malformation and intellectual disability syndrome
Ufartes R, Berger H, Till K, Salinas G, Sturm M, Altmüller J, Nürnberg P, Thiele H, Funke R, Apeshiotis N, Langen H, Wollnik B, Borchers A, Pauli S.
Hum Genet. 2020 May 18.
Inhibition of the autophagic protein ULK1 attenuates axonal degeneration in vitro and in vivo, enhances translation, and modulates splicing
Vahsen BF, Ribas VT, Sundermeyer J, Boecker A, Dambeck V, Lenz C, Shomroni O, Caldi Gomes L, Tatenhorst L, Barski E, Roser AE, Michel U, Urlaub H, Salinas G, Bähr M, Koch JC, Lingor P
Cell Death Differ 2020 Apr 27. doi: 10.1038/s41418-020-0543-y. [Epub ahead of print]
Diversity of Clinically Relevant Outcomes Resulting from Hypofractionated Radiation in Human Glioma Stem Cells Mirrors Distinct Patterns of Transcriptomic Changes
Kalasauskas D, Sorokin M, Sprang B, Elmasri A, Viehweg S, Salinas G, Opitz L, Rave-Fraenk M, Schulz-Schaeffer W, Kantelhardt SR, Giese A, Buzdin A, Kim EL
Cancers (Basel) 2020 Mar 1;12(3). pii: E570. doi: 10.3390/cancers12030570.
Ammonium acts systemically while nitrate exerts an additional local effect on Medicago truncatula nodules
Schulze J, Liese R, Ballesteros G, Casieri L, Salinas G, Cabeza RA
Plant Sci. 2020 Mar;292:110383. doi: 10.1016/j.plantsci.2019.110383. Epub 2019 Dec 19.
Increased presence and differential molecular imprinting of transit amplifying cells in psoriasis
Witte K, Jürchott K, Christou D, Hecht J, Salinas G, Krüger U, Klein O, Kokolakis G, Witte-Händel E, Mössner R, Volk HD, Wolk K, Sabat R
J Mol Med 2020 Jan;98(1):111-122. doi: 10.1007/s00109-019-01860-3. Epub 2019 Dec 12.
CRISPR-Mediated Activation of Endogenous Gene Expression in the Postnatal Heart
Schoger E, Carroll KJ, Iyer LM, McAnally JR, Tan W, Liu N, Noack C, Shomroni O, Salinas G, Groß J, Herzog N, Doroudgar S, Bassel-Duby R, Zimmermann WH, Zelarayán LC
Circ Res. 2020 Jan 3;126(1):6-24. doi: 10.1161/CIRCRESAHA.118.314522. Epub 2019 Nov 15.
Sleep Loss Disrupts Morning-to-Evening Differences in Human White Adipose Tissue Transcriptome
Wilms B, Leineweber EM, Mölle M, Chamorro R, Pommerenke C, Salinas-Riester G, Sina C, Lehnert H, Oster H, Schmid SM.
J Clin Endocrinol Metab. 2019 May 1;104(5):1687-1696.
Nuclear Pre-snRNA Export Is an Essential Quality Assurance Mechanism for Functional Spliceosomes
Becker D, Hirsch AG, Bender L, Lingner T, Salinas G, Krebber H.
Cell Rep. 2019 Jun 11;27(11):3199-3214.e3.
Bassoon proteinopathy drives neurodegeneration in multiple sclerosis
Schattling B, Engler JB, Volkmann C, Rothammer N, Woo MS, Petersen M, Winkler I, Kaufmann M, Rosenkranz SC, Fejtova A, Thomas U, Bose A, Bauer S, Träger S, Miller KK, Brück W, Duncan KE, Salinas G, Soba P, Gundelfinger ED, Merkler D, Friese MA.
Nat Neurosci. 2019 Jun;22(6):887-896.
Expression of the DNA-Binding Factor TOX Promotes the Encephalitogenic Potential of Microbe-Induced Autoreactive CD8+ T Cells
Page N, Klimek B, De Roo M, Steinbach K, Soldati H, Lemeille S, Wagner I, Kreutzfeldt M, Di Liberto G, Vincenti I, Lingner T, Salinas G, Brück W, Simons M, Murr R, Kaye J, Zehn D, Pinschewer DD, Merkler D.
Immunity. 2019 Mar 19;50(3):763.
The IL-1 Pathway Is Hyperactive in Hidradenitis Suppurativa and Contributes to Skin Infiltration and Destruction
Witte-Händel E, Wolk K, Tsaousi A, Irmer ML, Mößner R, Shomroni O, Lingner T, Witte K, Kunkel D, Salinas G, Jodl S, Schmidt N, Sterry W, Volk HD, Giamarellos-Bourboulis EJ, Pokrywka A, Döcke WD, Schneider-Burrus S, Sabat R.
J Invest Dermatol. 2019 Jun;139(6):1294-1305.
IL-12 and IL-15 induce the expression of CXCR6 and CD49a on peripheral natural killer cells
Hydes T, Noll A, Salinas-Riester G, Abuhilal M, Armstrong T, Hamady Z, Primrose J, Takhar A, Walter L, Khakoo SI.
Immun Inflamm Dis. 2018 Mar;6(1):34-46.
PI3K: A master regulator of brain metastasis-promoting macrophages/microglia
Blazquez R, Wlochowitz D, Wolff A, Seitz S, Wachter A, Perera-Bel J, Bleckmann A, Beißbarth T, Salinas G, Riemenschneider MJ, Proescholdt M, Evert M, Utpatel K, Siam L, Schatlo B, Balkenhol M, Stadelmann C, Schildhaus HU, Korf U, Reinz E, Wiemann S, Vollmer E, Schulz M, Ritter U, Hanisch UK, Pukrop T.
Glia. 2018 Nov;66(11):2438-2455.
Immortalization of common marmoset monkey fibroblasts by piggyBac transposition of hTERT
Petkov S, Kahland T, Shomroni O, Lingner T, Salinas G, Fuchs S, Debowski K, Behr R.
PLoS One. 2018 Sep 27;13(9):e0204580. doi: 10.1371/journal.pone.0204580. eCollection 2018.
Neurons under T Cell Attack Coordinate Phagocyte-Mediated Synaptic Stripping
Di Liberto G, Pantelyushin S, Kreutzfeldt M, Page N, Musardo S, Coras R, Steinbach K, Vincenti I, Klimek B, Lingner T, Salinas G, Lin-Marq N, Staszewski O, Costa Jordão MJ, Wagner I, Egervari K, Mack M, Bellone C, Blümcke I, Prinz M, Pinschewer DD, Merkler D.
Cell. 2018 Oct 4;175(2):458-471.e19.
Deep phenotyping of human induced pluripotent stem cell-derived atrial and ventricular cardiomyocytes
Cyganek L, Tiburcy M, Sekeres K, Gerstenberg K, Bohnenberger H, Lenz C, Henze S, Stauske M, Salinas G, Zimmermann WH, Hasenfuss G, Guan K.
JCI Insight. 2018 Jun 21;3(12). pii: 99941.
Protein arginine methyltransferase 6 controls erythroid gene expression and differentiation of human CD34+ progenitor cells
Herkt SC, Kuvardina ON, Herglotz J, Schneider L, Meyer A, Pommerenke C, Salinas-Riester G, Seifried E, Bonig H, Lausen J.
Haematologica. 2018 Jan;103(1):18-29
Expression of the DNA-Binding Factor TOX Promotes the Encephalitogenic Potential of Microbe-Induced Autoreactive CD8+ T Cells
Page N, Klimek B, De Roo M, Steinbach K, Soldati H, Lemeille S, Wagner I, Kreutzfeldt M, Di Liberto G, Vincenti I, Lingner T, Salinas G, Brück W, Simons M, Murr R, Kaye J, Zehn D, Pinschewer DD, Merkler D.
Immunity. 2018 May 15;48(5):937-950.e8.
Epithelial-Mesenchymal Transition during Metastasis of HPV-Negative Pharyngeal Squamous Cell Carcinoma
Ihler F, Gratz R, Wolff HA, Weiss BG, Bertlich M, Kitz J, Salinas G, Rave-Fränk M, Canis M.
Biomed Res Int. 2018 Mar 6;2018:7929104.
Effects of repeated long-term psychosocial stress and acute cannabinoid exposure on mouse corticostriatal circuitries: Implications for neuropsychiatric disorders
Tomas-Roig J, Piscitelli F, Gil V, Quintana E, Ramió-Torrentà LL, Del Río JA, Moore TP, Agbemenyah H, Salinas G, Pommerenke C, Lorenzen S, Beißbarth T, Hoyer-Fender S, Di Marzo V, Havemann-Reinecke U.
CNS Neurosci Ther. 2018 Jun;24(6):528-538.
The DNA Methyltransferase 1 (DNMT1) Controls the Shape and Dynamics of Migrating POA-Derived Interneurons Fated for the Murine Cerebral Cortex.
Pensold D, Symmank J, Hahn A, Lingner T, Salinas-Riester G, Downie BR, Ludewig F, Rotzsch A, Haag N, Andreas N, Schubert K, Hübner CA, Pieler T, Zimmer G.
Cereb Cortex. 2017 Dec 1;27(12):5696-5714.
Hepatic gene therapy rescues high-fat diet responses in circadian Clock mutant mice
Meyer-Kovac J, Kolbe I, Ehrhardt L, Leliavski A, Husse J, Salinas G, Lingner T, Tsang AH, Barclay JL, Oster H.
Mol Metab. 2017 Mar 29;6(6):512-523.
The adaptation of colorectal cancer cells when forming metastases in the liver: expression of associated genes and pathways in a mouse model
BBocuk D, Wolff A, Krause P, Salinas G, Bleckmann A, Hackl C, Beissbarth T, Koenig S.
BMC Cancer. 2017 May 19;17(1):342.
The β-catenin/CBP-antagonist ICG-001 inhibits pediatric glioma tumorigenicity in a Wnt-independent manner
Wiese M, Walther N, Diederichs C, Schill F, Monecke S, Salinas G, Sturm D, Pfister SM, Dressel R, Johnsen SA, Kramm CM.
Oncotarget. 2017 Apr 18;8(16):27300-27313.
Histone deacetylase inhibitor MS-275 augments expression of a subset of IFN-γ-regulated genes in Toxoplasma gondii-infected macrophages but does not improve parasite control
Sumpf K, Nast R, Downie B, Salinas G, Lüder CG.
Exp Parasitol. 2017 Feb 9. pii: S0014-4894(17)30083-8.
mRNA quality control is bypassed for immediate export of stress-responsive transcripts
Zander G, Hackmann A, Bender L, Becker D, Lingner T, Salinas G, Krebber H.
Nature. 2016 Dec 12.
The functional readthrough extension of malate dehydrogenase reveals a modification of the genetic code
Hofhuis J, Schueren F, Nötzel C, Lingner T, Gärtner J, Jahn O, Thoms S.
Open Biol. 2016 Nov;6(11).
Pre-Infection Transcript Levels of FAM26F in PBMCS Inform about Overall Plasma Viral Load in Acute and Postacute Phase after SIV-Infection
Javed A, Leuchte N, Salinas G, Opitz L, Stahl-Hennig C, Sopper S, Sauermann U.
J Gen Virol. 2016 Oct 18.
Identification of New Fungal Peroxisomal Matrix Proteins and Revision of the PTS1 Consensus
Nötzel C, Lingner T, Klingenberg H, Thoms S.
Traffic. 2016 Oct;17(10):1110-24
Arc/Arg3.1 governs inflammatory dendritic cell migration from the skin and thereby controls T cell activation
Ufer F, Vargas P, Engler JB, Tintelnot J, Schattling B, Winkler H, Bauer S, Kursawe N, Willing A, Keminer O, Ohana O, Salinas-Riester G, Pless O, Kuhl D, Friese MA.
Sci Immunol. 2016 Sep 23;1(3):eaaf8665.
Treatment of prostate cancer cells with S-adenosylmethionine leads to genome-wide alterations in transcription profiles
Schmidt T, Leha A, Salinas-Riester G.
Gene. 2016 Sep 26. pii: S0378 1119(16)30770-3
The SCN Clock Governs Circadian Transcription Rhythms in Murine Epididymal White Adipose Tissue
Kolbe I, Husse J, Salinas G, Lingner T, Astiz M, Oster H.
J Biol Rhythms. 2016 Sep 20. pii: 0748730416666170
Effects of Long-Term Environmental Enrichment on Anxiety, Memory, Hippocampal Plasticity and Overall Brain Gene Expression in C57BL6 Mice
Hüttenrauch M, Salinas G, Wirths O.
Front Mol Neurosci. 2016 Aug 3;9:62
Prognostic Value of MicroRNAs in Preoperative Treated Rectal Cancer
Azizian A, Epping I, Kramer F, Jo P, Bernhardt M, Kitz J, Salinas G, Wolff HA, Grade M, Beißbarth T, Ghadimi BM, Gaedcke J.
Int J Mol Sci. 2016 Apr 15;17(4):568
The transcriptomes of novel marmoset monkey embryonic stem cell lines reflect distinct genomic features
Debowski K, Drummer C, Lentes J, Cors M, Dressel R, Lingner T, Salinas-Riester G, Fuchs S, Sasaki E, Behr R.
Sci Rep. 2016 Jul 7;6:29122
Physical activity delays hippocampal neurodegeneration and rescues memory deficits in an Alzheimer disease mouse model
Hüttenrauch M, Brauß A, Kurdakova A, Borgers H, Klinker F, Liebetanz D, Salinas-Riester G, Wiltfang J, Klafki HW, Wirths O.
Transl Psychiatry. 2016 May 3;6:e800
MiR144/451 Expression Is Repressed by RUNX1 During Megakaryopoiesis and Disturbed by RUNX1/ETO
DKohrs N, Kolodziej S, Kuvardina ON, Herglotz J, Yillah J, Herkt S, Piechatzek A, Salinas Riester G, Lingner T, Wichmann C, Bonig H, Seifried E, Platzbecker U, Medyouf H, Grez M, Lausen J.
PLoS Genet. 2016 Mar 18;12(3):e1005946
The Cannabinoid CB1/CB2 Agonist WIN55212.2 Promotes Oligodendrocyte Differentiation In Vitro and Neuroprotection During the Cuprizone-Induced Central Nervous System Demyelination
Tomas-Roig J, Wirths O, Salinas-Riester G, Havemann-Reinecke U.
CNS Neurosci Ther. 2016 May; 22(5):387-95
Social defeat leads to changes in the endocannabinoid system: An overexpression of calreticulin and motor impairment in mice
Tomas-Roig J, Piscitelli F, Gil V, Del Río JA, Moore TP, Agbemenyah H, Salinas-Riester G, Pommerenke C, Lorenzen S, Beißbarth T, Hoyer-Fender S, Di Marzo V, Havemann-Reinecke U.
Behav Brain Res. 2016 Apr 15;303:34-43
Short-Term Molecular Acclimation Processes of Legume Nodules to Increased External Oxygen Concentration
Avenhaus U, Cabeza RA, Liese R, Lingner A, Dittert K, Salinas-Riester G, Pommerenke C, Schulze J.
Front Plant Sci. 2016 Jan 6;6:1133. doi: 10.3389/fpls.2015.01133. eCollection 2015
CD14 is a key organizer of microglial responses to CNS infection and injury
Janova H, Böttcher C, Holtman IR, Regen T, van Rossum D, Götz A, Ernst AS, Fritsche C, Gertig U, Saiepour N, Gronke K, Wrzos C, Ribes S, Rolfes S, Weinstein J, Ehrenreich H, Pukrop T, Kopatz J, Stadelmann C, Salinas-Riester G, Weber MS, Prinz M, Brück W, Eggen BJ, Boddeke HW, Priller J, Hanisch UK.
Glia. 2016 Apr;64(4):635-49
Long-Term Oocyte-Like Cell Development in Cultures Derived from Neonatal Marmoset Monkey Ovary
Fereydouni B, Salinas-Riester G, Heistermann M, Dressel R, Lewerich L, Drummer C, Behr R.
Stem Cells Int. 2016;2016:2480298
Modulation of CNS autoimmune responses by CD8(+) T cells coincides with their oligoclonal expansion
Fischer HJ, van den Brandt J, Lingner T, Odoardi F, Flügel A, Weishaupt A, Reichardt HM.
J Neuroimmunol. 2016 Jan 15;290:26-32
Microarray analysis of circulating micro RNAs in the serum of patients with polymyositis and dermatomyositis reveals a distinct disease expression profile and is associated with disease activity
Misunova M, Salinas-Riester G, Luthin S, Pommerenke C, Husakova M, Zavada J, Klein M, Plestilova L, Svitalkova T, Cepek P, Novota P, Vencovsky J.
Clin Exp Rheumatol. 2016 Jan-Feb;34(1):17-24. Epub 2015 Nov 17
SMRT sequencing of the Campylobacter coli BfR-CA-9557 genome sequence reveals unique methylation motifs
Zautner AE, Goldschmidt AM, Thürmer A, Schuldes J, Bader O, Lugert R, Groß U, Stingl K, Salinas G, Lingner T.
BMC Genomics. 2015 Dec 21;16:1088
Global analysis of asymmetric RNA enrichment in oocytes reveals low conservation between closely related Xenopus species
Claußen M, Lingner T, Pommerenke C, Opitz L, Salinas G, Pieler T.
Mol Biol Cell. 2015 Nov 1;26(21):3777-87
Thymocyte-derived BDNF influences T-cell maturation at the DN3/DN4 transition stage
Linker RA, Lee DH, Flach AC, Litke T, van den Brandt J, Reichardt HM, Lingner T, Bommhardt U, Sendtner M, Gold R, Flügel A, Lühder F.
Eur J Immunol. 2015 May;45(5):1326-38
Central role of Th2/Tc2 lymphocytes in pattern II multiple sclerosis lesions
Planas R, Metz I, Ortiz Y, Vilarrasa N, Jelčić I, Salinas-Riester G, Heesen C, Brück W, Martin R, Sospedra M.
Ann Clin Transl Neurol. 2015 Sep;2(9):875-93
Influence of total genomic alteration and chromosomal fragmentation on response to a combination of azacitidine and lenalidomide in a cohort of patients with very high risk MDS
Ganster C, Shirneshan K, Salinas-Riester G, Braulke F, Schanz J, Platzbecker U, Haase D.
Leuk Res. 2015 Oct;39(10):1079-87
Sensing Cardiac Electrical Activity With a Cardiac Myocyte-Targeted Optogenetic Voltage Indicator
Chang Liao ML, de Boer TP, Mutoh H, Raad N, Richter C, Wagner E, Downie BR, Unsöld B, Arooj I, Streckfuss-Bömeke K, Döker S, Luther S, Guan K, Wagner S, Lehnart SE, Maier LS, Stühmer W, Wettwer E, van Veen T, Morlock MM, Knöpfel T, Zimmermann WH.
Circ Res. 2015 Aug 14;117(5):401-12
Next generation sequencing of sex-specific genes in the livers of obese ZSF1 rats
Babelova A, Burckhardt BC, Salinas-Riester G, Pommerenke C, Burckhardt G, Henjakovic M.
Genomics. 2015 Jul 19. pii: S0888-7543(15) 30021-5
The oxidative demethylase ALKBH3 marks hyperactive gene promoters in human cancer cells
Liefke R, Windhof-Jaidhauser IM, Gaedcke J, Salinas-Riester G, Wu F, Ghadimi M, Dango S.
Genome Med. 2015 Jun 30;7(1):66
Thymocyte-derived BDNF influences T-cell maturation at the DN3/DN4 transition stage
Linker RA, Lee DH, Flach AC, Litke T, van den Brandt J, Reichardt HM, Lingner T, Bommhardt U, Sendtner M, Gold R, Flügel A, Lühder F.
Eur J Immunol. 2015 May;45(5):1326-38
Destabilization of pluripotency in the absence of Mad2l2
Pirouz M, Rahjouei A, Shamsi F, Eckermann KN, Salinas-Riester G, Pommerenke C, Kessel M.
Cell Cycle. 2015 Apr 30:0
Overexpression of mutant Ptch in rhabdomyosarcomas is associated with promoter hypomethylation and increased Gli1 and H3K4me3 occupancy
Nitzki F, Tolosa EJ, Cuvelier N, Frommhold A, Salinas-Riester G, Johnsen SA, Fernandez-Zapico ME, Hahn H.
Oncotarget. 2015 Apr 20;6(11):9113-24
Non-viral generation of marmoset monkey iPS cells by a six-factor-in-one-vector approach
Debowski K, Warthemann R, Lentes J, Salinas-Riester G, Dressel R, Langenstroth D, Gromoll J, Sasaki E, Behr R.
PLoS One. 2015 Mar 18;10(3):e0118424
mRNA profiling reveals determinants of trastuzumab efficiency in HER2-positive breast cancer
von der Heyde S, Wagner S, Czerny A, Nietert M, Ludewig F, Salinas-Riester G, Arlt D, Beißbarth T.
PLoS One. 2015 Feb 24;10(2):e0117818
Integrated miRNA and mRNA profiling of tumor-educated macrophages identifies prognostic subgroups in estrogen receptor-positive breast cancer
Bleckmann A, Leha A, Artman S, Menk K, Salinas-Riester G, Binder C, Pukrop T, Beissbarth T, Klemm F.
Mol Oncol. 2014 Aug 16. pii: S1574-7891(14)00178-1