Variants in clustered protocadherin PCDHGC4 identified as genetic cause of novel neurodevelopmental disorder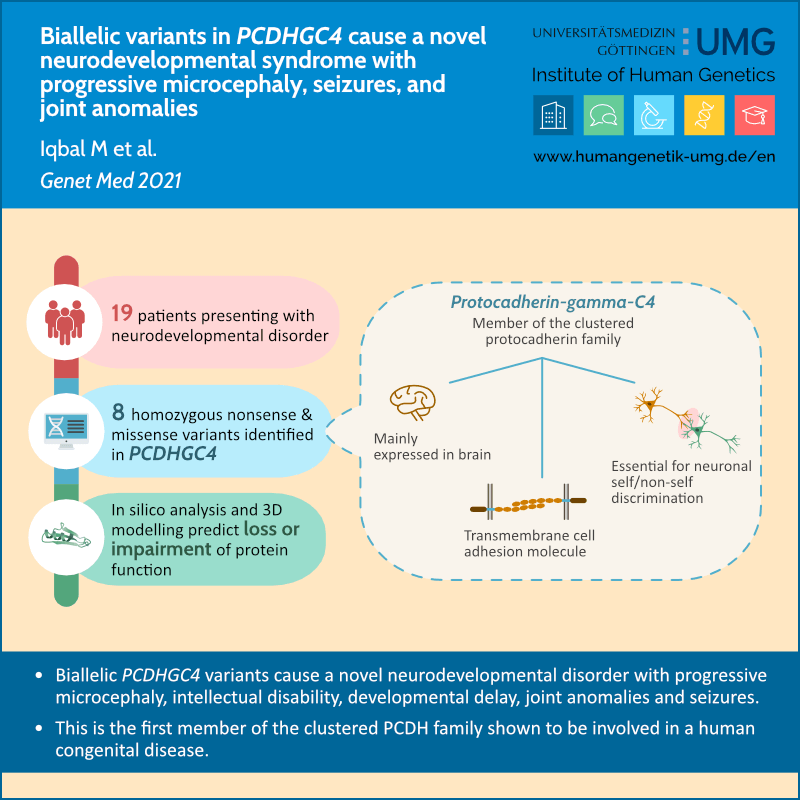 Biallelic variants in PCDHGC4 cause a novel neurodevelopmental syndrome with progressive microcephaly, seizures, and joint anomalies
Iqbal M, Maroofian R, Çavdarlı B, Riccardi F, Field M, Banka S, Bubshait DK, Li Y, Hertecant J, Baig SM, Dyment D, Efthymiou S, Abdullah U, Makhdoom EUH, Ali Z, Scherf de Almeida T, Molinari F, Mignon-Ravix C, Chabrol B, Antony J, Ades L, Pagnamenta AT, Jackson A, Douzgou S; Genomics England Research Consortium, Beetz C, Karageorgou V, Vona B, Rad A, Baig JM, Sultan T, Alvi JR, Maqbool S, Rahman F, Toosi MB, Ashrafzadeh F, Imannezhad S, Karimiani EG, Sarwar Y, Khan S, Jameel M, Noegel AA, Budde B, Altmüller J, Motameny S, Höhne W, Houlden H, Nürnberg P, Wollnik B, Villard L, Alkuraya FS, Osmond M, Hussain MS, Yigit G.
Genet Med. 2021 Jul 9. doi: 10.1038/s41436-021-01260-4. Epub ahead of print.